Hidden Gems Leicestershire – Earth to Connie Guest Post
5 May 2019
/
by admin
Hello there! For today's post, I'm taking part in the new Hidden Gems travel series. Hosted by Earth to Connie, the series aims to create a list of Hidden Gems all over the world. Hidden Gems can be anything from a cafe, a bar, a park, a museum and anything else in your hometown that is underrated. My hometown, or shall we say county as I don't live in the city centre, is Leicestershire. I feel that the general consensus of Leicester is that it's not that exciting and don't get me wrong there are better places in the world! Nevertheless, it's home for me, so it will always hold a special place in my heart and you never know where you might find an unexpected gem. So, here are my Hidden Gems in Leicestershire.
These are just a few ideas, but if you want to know more, then drop me an email ([email protected]) and I'll send you some more recommendations!
Shops
Set, Leicester
Even though this is in the Highcross, the main shopping centre, I feel it's easy to miss as it's situated on the outside, down past Zara and the Post Office. From the jewellery, stationery to the hilarious greetings cards, I always seem to want everything inside!
Narborough Hall, funnily enough in Narborough
This gift shop really is beautiful. Dating back to the 1600s, the old building means the shop is split up into different rooms. The best time to go is Christmas, when they have an entire room decorated, but you can find a lovely gift at any time!
Forget Me Not, Anstey
I feel like it would help if the shop sign was a little bigger as it is easy to miss, but once inside you will find lots of lovely gifts or just a treat for yourself.
Cafes
Mrs Bridges, Leicester
Mrs Bridges is really popular now, but it's one of my favourites and my go-to lunch stop if I'm in town. Situated in the St. Martin's Square/Lanes area, you can always rely on friendly service and good food. Pretty much every type of sandwich you can imagine and lots of cake!
The Cafe Next Door, Woodhouse Eaves
The Charnwood area of Leicestershire is popular with visitors, Bradgate Park probably being Leicestershire's highlight. In the quaint village of Woodhouse Eaves, The Cafe Next Door is small, but friendly. Again, a good place for cake and daily specials. I remember having a chocolate orange brownie which was heaven!
Another cafe hidden gem in Leicestershire is Hollows Farm Vintage Tearoom, you can find my review here.
Attractions
New Walk, Leicester
I feel like if you're just going shopping, you won't head out to New Walk but it's a nice area and New Walk Museum is completely free. There's various different permanent galleries including Ancient Egypt, Dinosaurs and many more.
Newarke Houses Museum, Leicester
Not to be confused with New Walk, Newarke Houses Museum is on the De Montfort University campus. It focuses on the social history of Leicester and includes a 1950s street scene.
Leicester Botanic Gardens, Oadby
Owned by the University of Leicester, the Botanic Gardens are the perfect spot to have a walk, see some beautiful plants and just be out in nature. Definitely recommend a visit!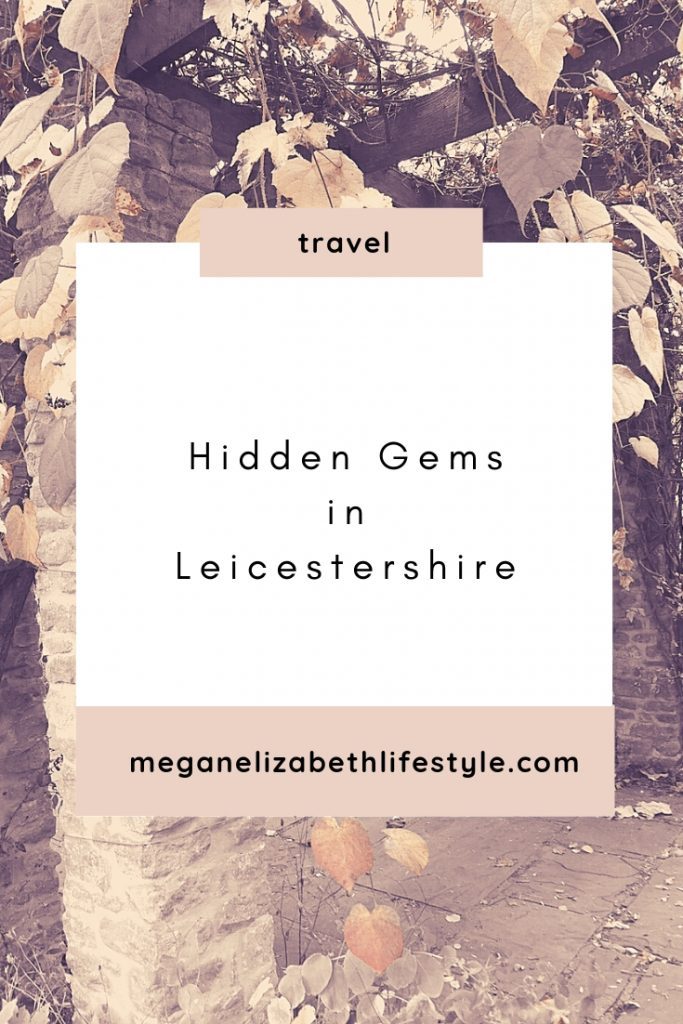 I hope you decide to check out these hidden gems that Leicestershire has to offer. I would have loved to include some photos, but I never think of photographing the places that are down the road from me!
Thank you to Connie for creating this series. If you want to see more of her work, visit her blog or find her on Twitter!