Gluten-Free Oat Raisin Cookies
3 May 2019
/
by admin
Something you may/may not know is that I've gone gluten-free to see if that helps with the Crohn's. As a result, I've been trying more gf products. The hardest part is what to have when you get those in-between meal cravings. Whilst the gf cakes/biscuits are really good now, they still have a lot of sugar in them. Therefore, I was inspired to create my own healthier version. These gluten-free oat raisin cookies are adapted from this recipe on BBC Good Food, along with some inspiration from this Dove Farm recipe. They are really easy to make and only take 10 minutes in the oven, so you don't have to wait long before eating them!
I liked the vanilla aspect from the Dove Farm recipe so included that, as well as switching the wholemeal flour for rice flour in the Good Food recipe.
Before we get started, a note on the texture. These are soft cookies, very much like cake in texture!
Ingredients
50g low-fat margarine
50g caster sugar (could use natural sweetener like xylitol to be even healthier)
1tbsp set honey OR dessert spoon of runny honey
1 egg
2 tsp vanilla extract
1 tsp cinnamon powder
50g gluten-free rice flour (I used Dove Farm)
1tsp gluten-free baking powder (pretty sure normal baking powder is gf anyway, or at least my one from Sainsbury's is)
80g gluten-free porridge oats
50g raisins (if you're not a raisin fan, why not swap for some gf chocolate chips or anything really that takes your fancy)
Method
Heat oven to 180 C / 160 C (fan assisted) / gas 4. Grease a large baking tray.
In a large bowl, mix the margarine and sugar together until soft, then beat in the honey.
Add the egg, cinnamon powder and vanilla extract. Mix well.
In another bowl, combine the flour, baking powder, oats and raisins and mix together before adding to the margarine mixture.
Drop heaped dessertspoonfuls of the cookie dough onto the baking sheet and bake for 10-12 minutes or until lightly golden
Remove them from the oven, they should be golden but will still seem a tiny bit soft to the touch. Leave them on the tray for a minute (this lets them settle slightly) before transferring them to a cooling tray to completely cool. Store in an air tight container or (if you're anything like me) dive straight in!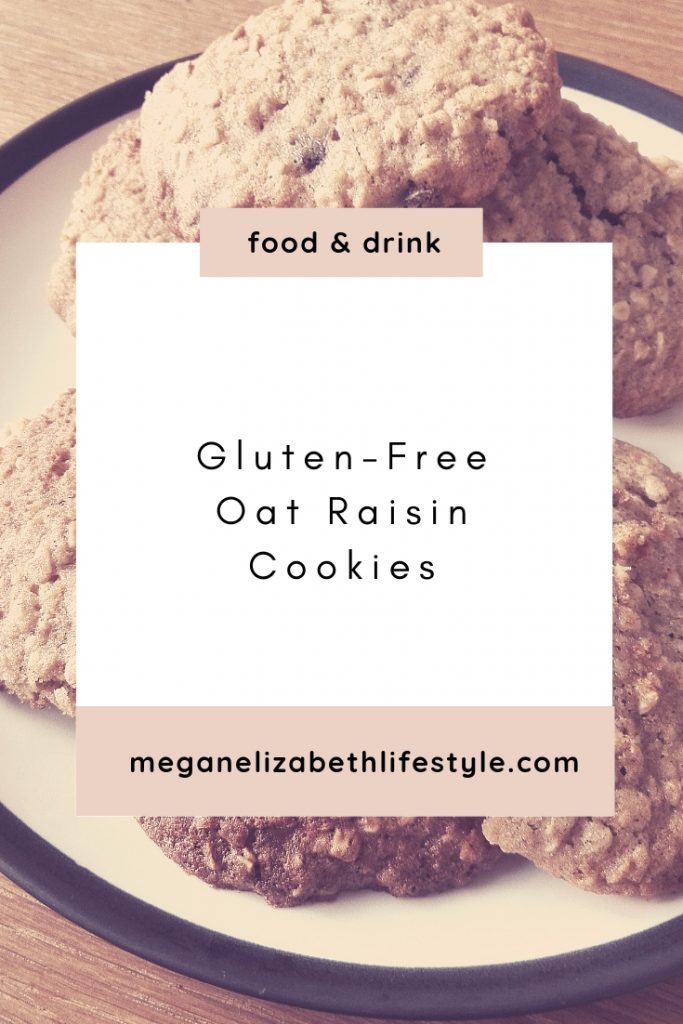 Pin the recipe for later!
If you have a go at making these gluten-free oat raisin cookies, then let me know how you get on! For anyone wanting more recipes like this, just give me a shout and check out the food & drink section in the meantime.