The Wild Indoors No.2: Reading and Writing
19 January 2021
/
by admin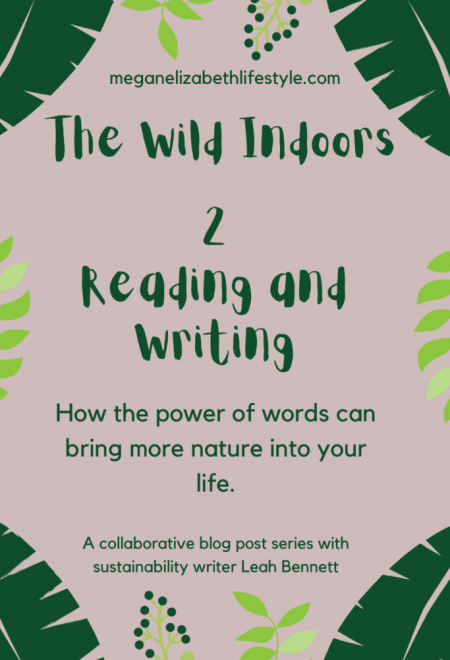 Welcome to part 2 of a 5-part blog post series, The Wild Indoors. This is a collaborative series written together with Leah Bennett, who is a sustainability writer and researcher. Over the next 5 posts, we'll be sharing tips on how to bring more nature into your life in a variety of ways, even when you are staying because of lockdown.
Leah shares how the power of words can help connect you with nature, with some fantastic book recommendations and writing prompts.
Reading
Reading about climate change is a fantastic way to build up knowledge of the subject whilst also discovering new ways to help. With more time in the house (and what can often feel like endless hours that need to be filled) lockdown is a perfect time to either develop or indulge your reading habit.
Here are five books (in no particular order) I would recommend to anyone who wants to learn more about climate change, the solutions sought to it, and how to ignite the potentiality in each one of us to have a positive influence on our planet.
Burn: Using Fire to Cool the Earth, by Albert Bates and Kathleen Draper
Although the title may seem paradoxical, this book is an interesting exploration of how we can save our world using fire.
Bates and Draper explore how our ideologies, conventions, and methods have been a destructive force on our planet. In doing so, they theorize that, in order to have a positive influence, as humans, we must re-examine what we think we know. This is a cruciality as only by doing this can we reverse the negative cycle we are so far establishing. In a demonstration of this, Bates and Draper discuss an ancient Amazonian practice that could be the key to reversing the damage humans have done to the planet; utilising the birthing power of fire.
Greenovation: Urban Leadership on Climate Change, by Joan Fitzgerald
In her work, Fitzgerald explores the impact cities have on the climate. She notes that interestingly, although cities take up a small percentage of land, they emit around 72% of greenhouse gas emissions. Fitzgerald therefore rightly calls for a change in the conventional operations of city life. She calls this "greenovation".
Fitzgerald explores just how reinventing cities can have a huge transformation on the welfare of our planet and, in laying out the agenda for green urban innovations, this makes for an inspiring read.
The Uninhabitable Earth, A Story of the Future, by David Wallace-Wells
Although the title to this sounds terrifying, and Wallace-Wells certainly depicts a brutal image of our future, this is a well-needed shock. The evidence of climate change is all around us; the strange weather, the pollutive smokes, the forest fires, the melting ice-caps, to name but a few. We might think we know about climate change but Wallace-Wells does not allow us this certainty, he tells the reader immediately that "it is worse, much worse, than you think."
Don't however, let this discourage you from continuing on. This work is an honest representation of the future we are creating for generations to come, yet it also represents the alternative to this. By addressing the potential outcomes of our actions, Wallace-Wells enthuses us to see that change is unavoidable if we are to secure a habitable future for ourselves; and he tells us how to achieve this.
How to Give up Plastic, Simple Steps to Living Consciously on Our Blue Planet, by Will McCallum
McCallum addresses one of the biggest problems our planet faces; our reliance on plastic. Every year, there are around 12.7 million tonnes of plastic entering the oceans and subsequently having a disastrous effect on wildlife. If we fail to do something about this, it has been estimated that by 2050, there may be more plastic in the ocean than fish by weight.
McCallum's book is a fantastic informative insight into how to break our destructive relationship with plastic, and one that is not only essential but timely.
Writing
With the lockdown restrictions, travelling for a meditative holiday in nature is proving difficult. These restrictions, however, do not stop our minds from wandering.
Whether you want to remember a time when you were out in nature or invent a story about where you want to go, what you want to do, and whom you want to go with, writing is how you can get there.
The act of thinking about an experience and expressing emotion in the form of writing can be a welcome release of stress and overwhelming feelings. Getting your thoughts down onto the page can be very cathartic, it can make you feel stimulated, improve your memory, and boost your mood – which is something we could all use right now!
So, what are you waiting for? Let's get going! To help you gather some inspiration, I'll go through three different ways you can start to get the inspiration flowing!
Journal Entry – Dear Diary …
There are many ways to approach journaling. Whether you want to write about something that recently happened or a memory from long ago, it's up to you!
it can be fun to ask yourself, who is telling this story? Is it you, the woods you walked in, your dog, the sun, or something else entirely? Writing the same story from multiple perspectives is a great way to really unleash your creativity and also revaluate your memory by adopting a perspective that's not just your own. You might discover some hidden gem from that day or maybe gather a whole new outlook on what had become a stale memory from long ago.
Creative – write a short story, a play, a poem, or a few inspired haiku
Unleash your imagination!
I'd recommend that if you're struggling for inspiration, think of the last time you went outside or of a time you went on a memorable walk. First, write it out as it happened then, explore how things could have happened differently; was there a monster following you in the woods, was it catastrophic rain instead of glorious sunshine, was there some underlying quest unfolding before you? (this could be anything from trying to discover a great mythical secret to locating the car). This could be the start of a fantastic short story (or novel – give yourself some credit). Perhaps, you can redesign your peers as characters in a play, look at the surroundings you remember as a poet, or write a letter, recounting your day to whomever you like!
A lot of creative expression is taken from everyday experiences so don't be afraid to let your imagination run wild!
Write a song – sing your heart out!
Songs can work on many levels. Like some poems, they are expressions that adhere to a musical form and this gives them levels of structure and emotion.
A helpful tip when writing a song is to work now and edit later. When you're writing something creative it is best to get it all out on the page, give it some space, and then critique it. Having time between writing and editing is very important and can give you a whole new perspective on your work (this goes for other aspects of creative writing too).
The most important thing to remember when you're writing a song – or anything else for that matter – is to be confident. Believe in yourself and what you are creating.
The blank page can be daunting, I know, but the most important thing to do is ditch the pressure. It's just you and the page. If you're finding it difficult to get going, just write one line. It could be something you heard recently, something from a song or poem, or the start of a recipe – basically, anything at all! You might be surprised about where creative inspiration comes from so don't rule anything out. Just keep writing.
We hope that during these hard times, you can take some time to really appreciate the experiences you've had in nature and let yourself get lost in your imagination until we can once again experience the wonders of the world and make new memories.