Christmas Bullet Journal Setup: Plan with Me
17 February 2021
/
by admin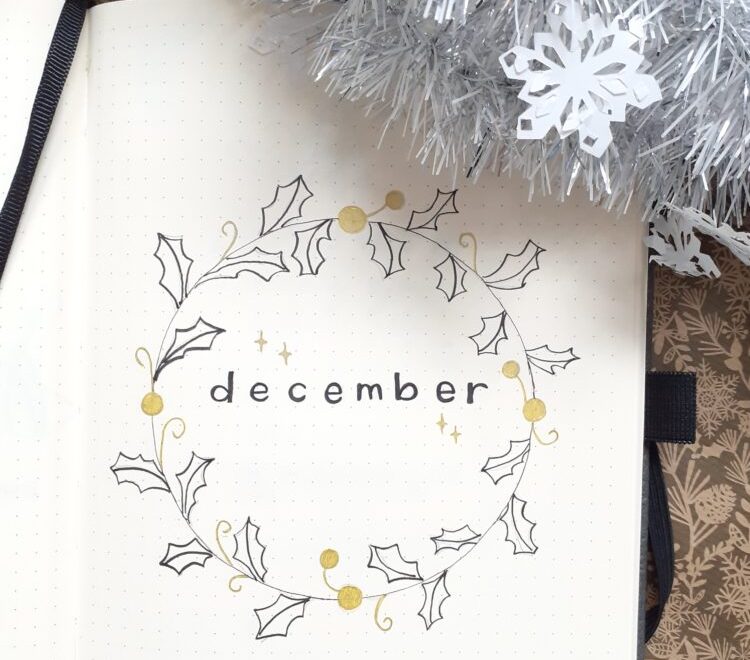 In the 2 plus years I've been journaling, I have never done a Christmas bullet journal setup. Yes that is correct. It's something I always wanted to do, but things such as university and chronic illness flare ups meant that it hasn't happened. Until now. I think we can all agree that we need some Christmas sparkle to finish off 2020 and bring some positivity to the end of a turbulent year.
Changing how I use my journal
My first Christmas-themed bullet journal setup is all things gold, silver, and sparkle.
Now that I'm using my Amanthis diary for daily and weekly planning, my bullet journal spreads have definitely changed. I don't create weekly spreads anymore, but use my journal to have a creative therapy session, write some of my favourite quotes, and use the space for any musings or thoughts relevant for how I'm feeling each month.
Whether you want to do a full weekly layout or not, I hope you get some festive journal inspiration for this setup.
All you need is a gold and silver gel pen, and a black fineliner and you ready to go.
Gold and silver theme Christmas bullet journal setup
Title page
The cover page is based on a wreath. The circle shape made a nice frame for the December writing. I based the wreath design off a drawing tutorial I found on Pinterest, and it created a simple, but effective result. The decorations were kept minimal, wanting a 'less is more' feel to the page.
I'd recommend using something to draw round for the circle. I used the bottom of a fake houseplant pot!
Calendar and key dates
Although we're steering away from the planning aspect of journaling, I still like to keep a key dates section to remind myself of what's coming up in the month ahead. Unfortunately just because it's Christmas, the Crohn's blood tests and medication don't stop.
I added some stars and a Christmas tree for a festive touch, but you can add whatever Christmas drawings you want.
Quote page
"May you never be too grown up to search the skies on Christmas Eve"

unknown
Quotes are always a key part of my bullet journal setups, so of course we've gone for a Christmas-themed quote.
I'm not sure who said it originally, but it summarises the magic of Christmas. I think as you get older, the things which you enjoy about Christmas changes over time, but there is still something special about the time of year no matter how old you are.
Quote page – "May you never be too grown up to search the skies on Christmas Eve"
Festive playlist
A feature I really wanted to include in December 2020 was a music page. I've seen playlists on other bullet journaler's designs before now, and they can be a great way of setting the mood for the month through song. There are so many iconic Christmas songs, but these are some of my favourites. What is your go-to festive song?
I also tried out some letter stamps from Hobbycraft for the title. They worked well, but did smudge easily, so I would recommend leaving them to dry for a while before continuing any other work.
Christmas planning
Christmas 2020 will be different to previous years, thanks to Covid. Even though Christmas will be a smaller affair for many, it doesn't mean that we can't still enjoy the usual games, food and drink, festive films, and more. Stuck in Love is my favourite Christmas film, how about you?
I started out intending each circle to be a bauble, but they've ended up more like Christmas puddings, so the design on this page is open to interpretation.
The holly border was in keeping with the title page, and kept the theme running nicely thoughout the setup.
End of Year/New Year thoughts
Two things that I will be taking away from 2020.
1) Time blurs into one when you are in lockdown and the year goes by extremely quickly
2) I'm working on setting less goals and planning less, in favour of focusing on the present moment. 2020 showed us that you never know what is going happen. I'm just trying live each day as it is, and not plan far in advance.
Rather than having a specific page for 2021 goals, I set up some free flow journaling pages, so I can write down my thoughts after this year.
If you are doing a Christmas-themed bullet journal setup this year, then let me know.